Motorola PM1200 Mobile Two-Way Radio
Motorola has canceled the PM1200 as of December, 2015. If you are looking for a replacement digital mobile radio we suggest the Motorola XPR 5000e Series.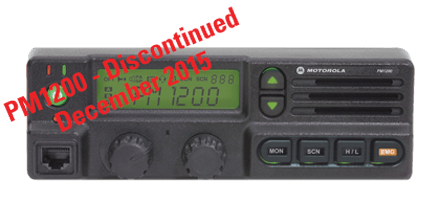 Keeping communities safe and keeping vital services flowing is a job where there's no room for error. But today's budgets don't always have room for unlimited spending. So Motorola designed the PM1200™ Professional Series two-way mobile radio to provide government and commercial institutions with maximum value. The PM1200 offers local public safety, public works, utilities and transportation professionals a full range of easy-to-use features, with all the quality and reliability users expect from Motorola. Count on this dependable performer to provide clear, cost effective communication that meets the needs of hard-working professionals.
Motorola PM1200 Accessories
Click on the link below to view proven mobile radio accessory solutions to help you work harder and smarter.
The complete line includes:
Antennas
Control Station Accessories
Installation, Cables and Mounting Accessories
Microphones and Audio Accessories
Public Address and Speakers
Wireless Bluetooth® Accessories
View the Motorola Original Accessories for the Motorola PM1200
MOTOROLA, MOTO, MOTOROLA SOLUTIONS and the Stylized M Logo are trademarks or registered trademarks of Motorola Trademark Holdings, LLC and are used under license.
All other trademarks are the property of their respective owners. © Motorola Solutions, Inc. All rights reserved.